Trend Micro Releases Cloud based Sync service
Posted by CtcAdmin in Aug, 2011

Trend Micro SafeSync
Trend Micro SafeSync.
Great for businesses to share data with customers or have access to files on other devices.
Also great for personal to sync all desktop / laptop / iphone / ipad / mobile devices
Protect, access & share your digital life.
SafeSync offers secure, real-time synchronization, so you can access and share your precious memories anytime, anywhere.
Keeping all your files up to date when you have multiple computers can be difficult. SafeSync automatically detects any changes you make to your digital files, and syncs those changes to all your web enabled devices. Protect, access, and share all your precious files quickly and easily with SafeSync.
Sharing is simple
SafeSync lets you send links to your personal photos, videos, and documents using our simple and secure sharing buttons. We use sharing links, so your friends and family can easily access your digital life without clogging up their inbox. You can stay safe by removing the link at anytime.
You can go mobile!
SafeSync gives you 24/7 access to your data from any web-enabled device. Using the SafeSync mobile apps for iPhone, iPad, and Android, you can upload your captured images, stream music and videos, view pictures or important documents, and easily share them all with friends!
Protect your precious memories
SafeSync keeps your files automatically backed up, secure and synchronized. All you have to do is select the folders that you want to protect and SafeSync will always keep up-to-date copies on all your enabled devices.
[divider]
Technical Details
Confidentiality – Trend Micro cannot see your files without your authorization

Encryption – Data is transferred using the same 256-bit AES encryption used by financial institutions for security

Firewalls – Defends equipment from cyber attack with multiple firewalls

Data storage clusters – Each file is secured on multiple independent storage clusters with continuous back up

Remote access control – You have the ability to share or revoke access to your shared files at any time

Network and server security – Our system uses an industry best practice secure permission structure to safeguard file access

Load balancers – Ensures constant availability of online backup and file restoration, even in the event of equipment failure

Application servers – Redundant servers ensure you can always access your data

Network partitioning – Storage clusters cannot be accessed from the Internet
[divider]
Mobile Access
SafeSync lets you access all your music, videos, pictures and documents protected using SafeSync, while keeping them in-sync across multiple computers.
Sharing functions allow you to share your personal digital files with anyone, anytime, anywhere.
SafeSync features:
Access all your secured files

Directly upload photos and videos

Watch all your videos

View all your photos

Listen to all your music

Even works offline*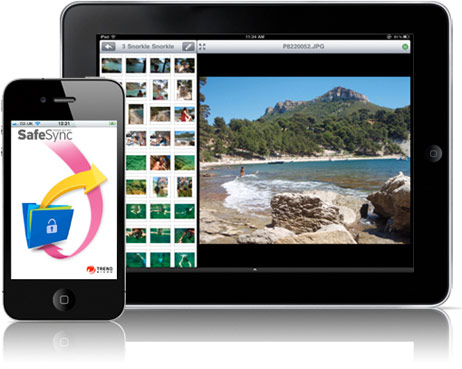 Browser support
| | | | | | | |
| --- | --- | --- | --- | --- | --- | --- |
| Internet Explorer 7.x & 8.x (32 & 64-bit) | Firefox 3.5 and higher | Safari for Mac 4.x and 5.x | Chrome 5.x | Mobile browsers on iPhone/iPad, Android, Windows Mobile | iOS 3.1.3 and higher | Android 2.1 and higher |

Category: Latest News